RENTAL EQUIPMENT ILLINOIS TRUCK & EQUIPMENT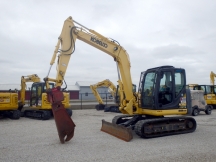 MAKE
MODEL
H.P.
WEIGHT
ATTACHMENT
WEEK
4 WEEK
Kobelco
SK85CS
56
18,700 lbs.
MSD7R
$2,300
$6,850
- Customer is responsible for all jumper line damage and repair.
- Price does not include blade wear, tooth wear and maintenance.
- 10% blade wear surcharge or actual blade wear cost will be added to rate, whichever is greater.
---